I'm visiting my friend George. We've known each other since our school days, we've had a lot of fun together, we've partied together, we've always talked about our girls and shared our sexual experiences. We even had a few three-ways when we got some girl who didn't mind.
When he called me, he implied that today would be something similar. We talk for a while, drinking beer, and I'm already eagerly asking where he got her, that I'm already curious about her and what she looks like?
George just smiles and says "She's waiting next door".
"What, she's here all the time and you don't even bring her?"
"Well, you know," George apologizes, "she doesn't talk much, but she fulfills everything we want."
Somehow I'm losing my mind, so I suggest we move in with her. "
Ok, but don't be surprised when you see her, you'll like it, don't worry." And we go to the bedroom. George stops me between the doors and wants to tell me more about his lady.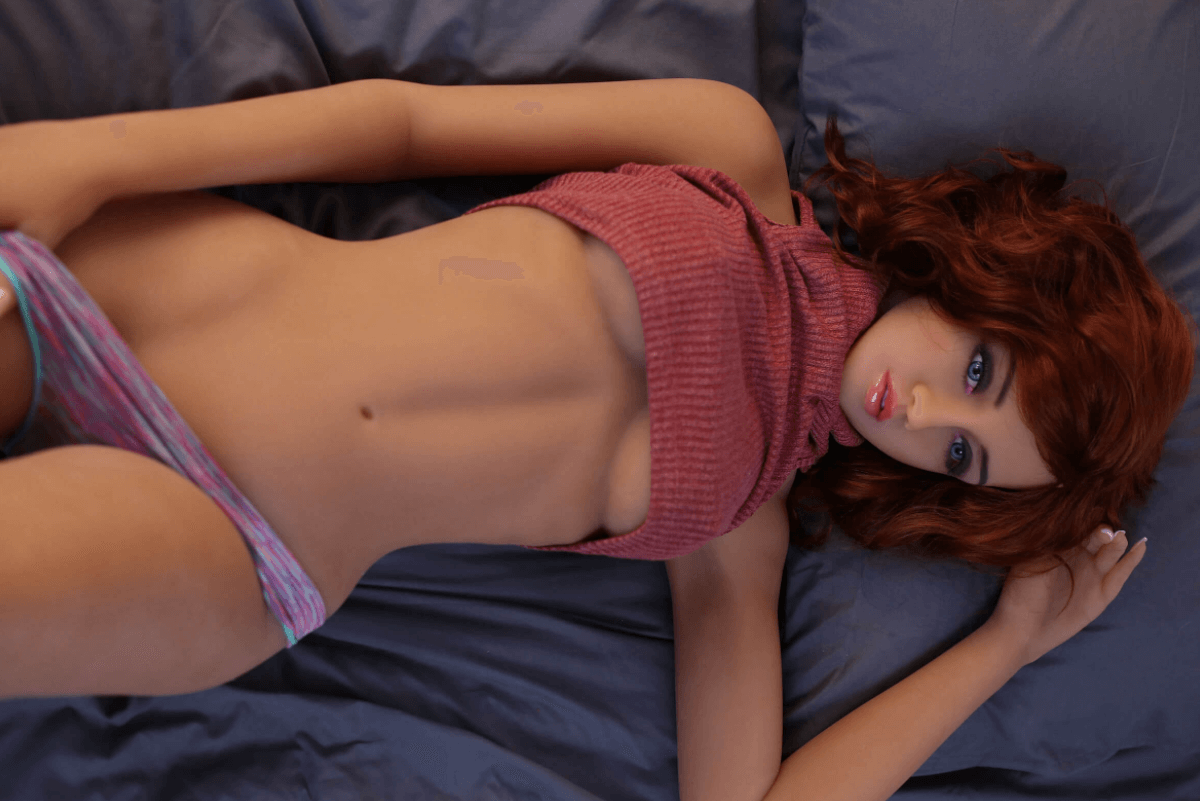 But over his body I can already see a figure in a skirt and T-shirt lying on the bed, her legs spread… If I look closer, I'll understand. There's a sex doll lying on the bed. I'm a bit surprised, I really didn't expect this, and especially not from my friend who has always been a big womanizer and never had a shortage of girls.
"You know, I'm pretty burnt out with girls right now and I want to take some time off from relationships. So I have this replacement at home. I have sex when I want, she never talks back, she holds me down and I enjoy myself," he tries to apologize a little.
"Wait, she doesn't look bad at all, " I say relaxingly now that I see her up close.
Big firm tits looming under the leotard, an athletic slim body, her face looks realistic too, just a little cold. But hopefully that won't matter for some of the action.
"Well, let's check her out," I say, rolling up my shirt. Underneath are beautifully shaped tits with firm nipples. I run my hand over them, they're nice and soft to the touch and don't even fit in my hand.
Then I move on to the skirt, rolling it up to my waist. She's got nothing underneath, so I look at her pussy.
I turn to George and say, "Then show me what you can do with it," I smile.
George shows me how to position the sex doll, how to hold her nicely in each position and immediately he brings her nicely to her knees and rests her hands in front of her. He pulls up her skirt and shows me both holes in their full glory. I try running my finger over them, they are nice and soft inside.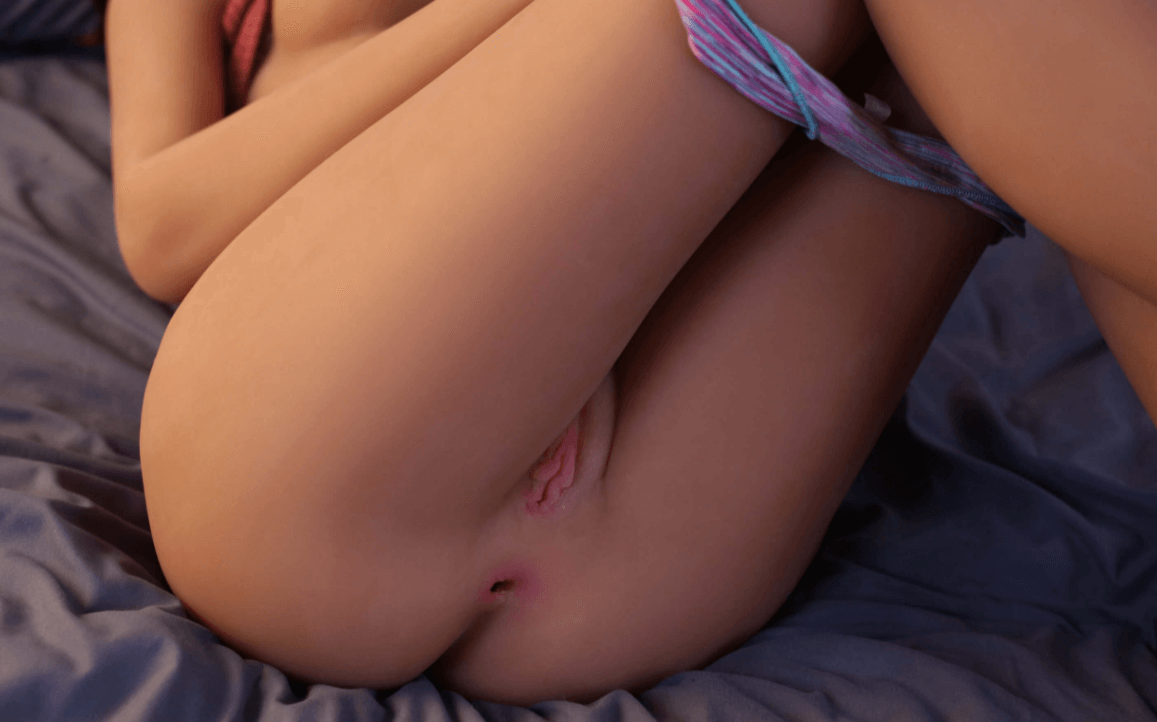 "Wait, first you have to gel her up." And she puts a good dose of lube in both holes. Then he goes over to the mouth and lubes that one too.
"Well, now she's ready for some serious action," he winks at me. He immediately strips off his clothes, uses his hand to drive his cock until it gets hard and approaches the sex doll from behind. He slowly shoves it into her pussy, moaning lightly as he does so. He grabs her by the hips and slowly moves in.
"What about you, are you just going to watch?" he hums at me. I have to say, I was pretty turned on by this and immediately got naked as well.
My cock was already hard so I approached the sex doll from the front to test her pussy. I gently grabbed her head, put my cock to her lips and tried to go inside. It went in easily and I was fucking her right away. Slowly at first and just for a bit, but after a while I couldn't hold back and pushed it in as deep as I could. I was all the way inside and I started to come.
George was fucking her against me, holding her hips and the sex doll obediently held both of us. I grabbed her tit with one hand and squeezed it.
"Yeah, fuck her in the mouth, have a good time" George encouraged me.
After a while he suggested: "How about a proper sandwich?" I of course agreed, took my hard cock out and started to help position the sex doll. George lay down and we put her on top of him with her back to his face. I held the sex doll up and Georgegot into her ass. He grabbed her hips and slowly fucked her. I knelt in front of the sex doll and shoved my cock into her pussy.
She was nice and warm inside as George rode her. I started to fuck her slowly. Through the wall of that fake pussy, I could feel George's dick pounding and straining into her. We both rammed our cocks in, up to our balls, occasionally slapping each other with them, making noises as we did so, I had a view of her awesome tits and every now and then I would squeeze them and hold them in my hand.
I didn't last long and soon I started to squirt into her. I stayed inside for a while, and soon I felt George's quickening thrusts too, and he was filling her up as well. We took our cocks out, put the sex doll on the bed and had to pant.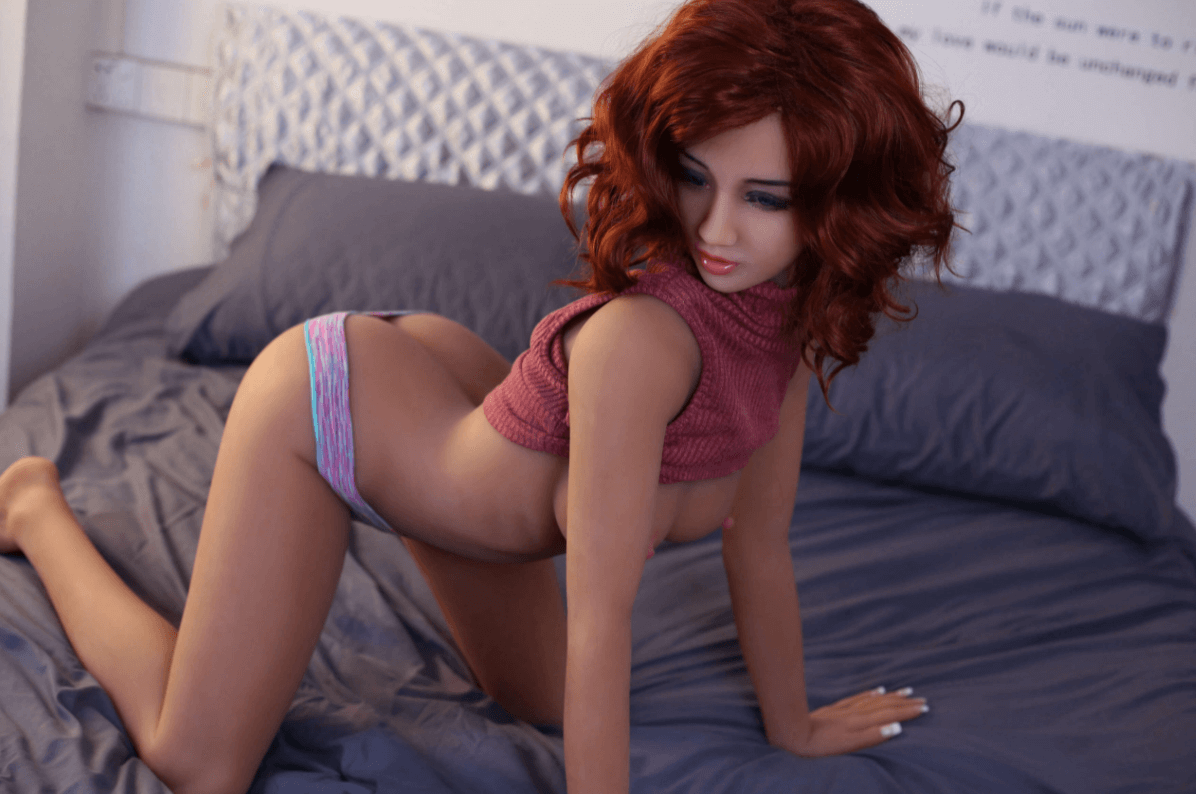 "Wow, I wasn't expecting that, quite realistic, I fucked well," I told George.
"There you go, let's take a break and do it again." Within moments George had cleaned all her holes and prepared her with gel for the next event. I examine the sex doll closely, her body and face are detailed. I focus on her tits, wash them and my cock is already hard again. I take the gel, drip a little between her tits and immediately stick it in. I squeeze her tits together and start fucking them. George soon joins me.
This time he picks her mouth and pushes his hard cock in quickly. He fucks her mouth while I fuck her between her tits. After a moment, I move between her legs, lifting them to my shoulders and pushing my hard cock to her pussy. Immediately I shove it in up to her balls and start to fuck her.
George moves over to her tits, and within moments she's shoving it between them towards me and already fucking them. Every now and then the tip of his glans pops out and he makes a big noise. It doesn't last long and the sex doll soon has her tits and belly splattered with George's cum. He passes out next door and the sex doll is now all mine. I turn her over and position her on all fours.
I shove my cock up to her ass and slowly slide in. It's tighter than her pussy and I'm clenched up nice and tight inside. I grab her by the hips and start to slowly fuck her. I'm getting deeper, really enjoying that tight hole. I lean forward a little and grab the throat with my right hand. Then I pick up the pace.
I can't keep it up for long, I'm about to let a second load into her and I can't control myself, I'm grunting pretty loud. I hit it a couple more times and my cock twitches inside before all the energy comes out of me.
Then I roll down next to her and enjoy the delicious feeling of orgasm. That was enough for us that day. I thanked Geroge for the nice experience and said goodbye with a shy smile and the words that we will do it again sometime.
© Naughty Harbor